MEDALS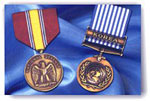 We carry a wide selection of
Large and Miniature Medals
...Anodized and Standard.

| | | |
| --- | --- | --- |
| Individual MEDALS | | Choose Anodized or Standard below to purchase INDIVIDUAL Medals. |

NO MOUNTING HERE!!!
The above links are for the purchase of individual Medals only.
For MEDAL MOUNTING, click HERE.
www.jaymilproducts.com
Online Security...
All credit card transactions at Jaymil are processed in real time via our Secure Server. Personal identifiable information such as date-of-birth or mother's maiden name is NEVER required to process an order.


Read More...