RIBBONS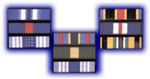 Your Online Source for U.S. Military Ribbons.
| | | |
| --- | --- | --- |
| Individual RIBBONS | | Select your branch of service below to purchase INDIVIDUAL Ribbons. There is a minimum $25.00 purchase required. |


NO MOUNTING HERE!!!
The above links are for the purchase of individual ribbons only.
For RIBBON MOUNTING, click HERE.


RIBBON PRICES: $1.00 each, with gold devices $2.00
www.jaymilproducts.com
Online Security...
All credit card transactions at Jaymil are processed in real time via our Secure Server. Personal identifiable information such as date-of-birth or mother's maiden name is NEVER required to process an order.


Read More...